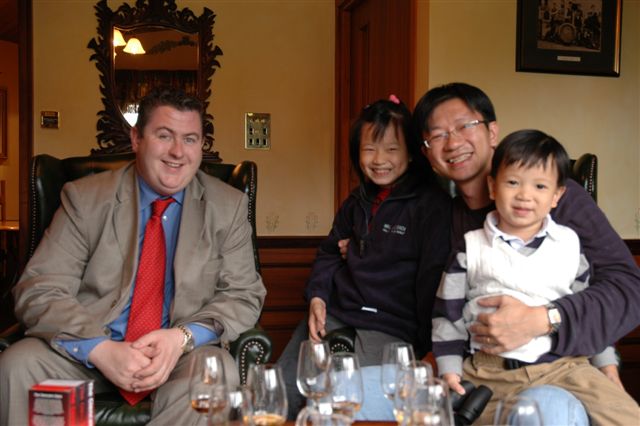 With the help of our Mr. Glanfarclas, Luc Timmermans, we had a VIP tour in Glenfarclas with George Grant, the sixth generation of the family. George picked us up at ten o'clock. We thought we can go somewhere else but it is obvious that we were too tired and we woke up too late to do anything else but only the delicious breakfast. (Note: you can't miss the delicious smoked fish, only for breakfast.) George is quite a nice young man, a little bit shy, but showed us great hospitality. I was quite surprise to know he actually lived in Hong Kong for two years to help expend the far eastern business. And the great news that he'll get married with a Chinese girl, Stephanie, within two weeks. (Congratulations, George!
Hope you like the wedding gift I sent after I came back home.)
We stop by the visitor center to see the famous ship room first, then go through a quick distillery tour. Two things impressed me the most. The first thing is that George stopped by a "window", which can see through the original stone wall. (Too bad I forget to take a picture.) George told me this WAS his favorite part of the distillery before UK entered EU. After that, all the distillery need to fit the EU industrial safety regulations and they have to put cement on the surface of the original stone wall. It's quite a pity but I can see George's feeling about the distillery through it. Another interesting thing is the "chain" inside the still. We all know that Glenfarclas is very famous for it's direct firing still. It is one of the few distilleries still using direct firing stills and is the only one tried to shift to indirect firing but shift back. As it is off-season in Glenfarclas, we can watch inside the stills easily. George wants us to look at the special "chain" beside the wall. Because of the direct firing, the liquid inside will easily get sticky and the "chain" stirs around to prevent sticky.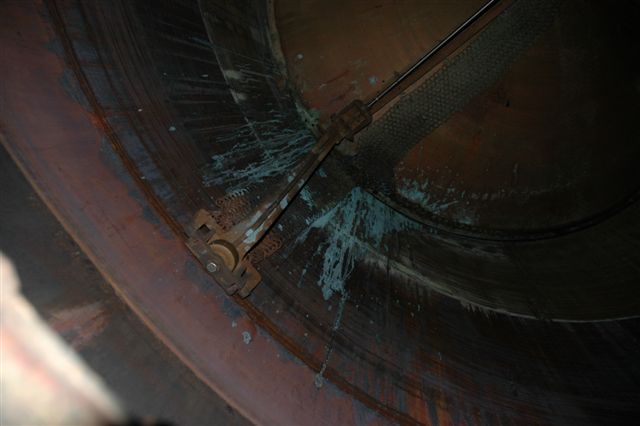 Then, we went to the VIP tasting room, where the kids had some cokes while my wife and I enjoyed these wonderful drams:
Glenfarclas 10yo (40%, OB)
This is new to me, not too surprise, but quite nice and complex. Score: 83.
Glenfarclas 105 (60%, OB)
The new 2004 edition. I liked it a lot. I even gave it two points higher then in the 2004 MM awards. George was so happy as this is the first bottling that he blended. Good job! Score: 90.
Glenfarclas 21yo (43%, OB)
Not particular impressed. Same score as before. Score: 84.
Glenfarclas 30yo (43%, OB)
Seems better than I tasted last time. But I heard from some local importer mention that they don't like the very new batch. Score: 88.
Glenfarclas 50yo WIP
Will be bottled in Sep. as 50yo single cask. Possible retailing price at around 1,950 pound. Very nice, powerful. Complex. Can't believe it's a 50yo malt. Even better than that "a whisky can't be named" Score: 93. I ordered one immediately. Same price as Luc, Thanks, Luc.
Glenfarclas 40yo (43%, OB)
As I've just had 50yo, I think it's not right to score 40yo, I bottled most of them back but from nosing, I think it over 90 for sure.
George was very nice to buy us a dinner at a small Inn near by. Although I know the place very well, but forget to write down the name. I heard it's a place for fishers. But it nice and clean. Food is delicious.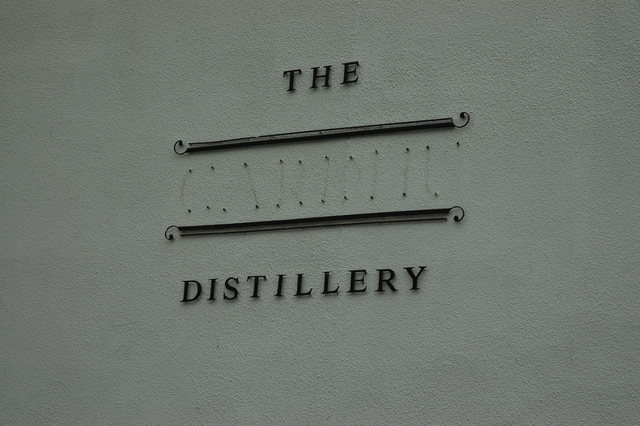 After the lunch, we drive to Cardhu just for some pictures. It's quite interesting to see some of the directions in Cardow while some changed back to CArdhu. Then we visited the Speyside Cooperage. It probably good for the ones who want to see coopers' work. But it is kind of boring for me. The kids like it though. For those who'd like to see the real coopers' work might want to pay a visit.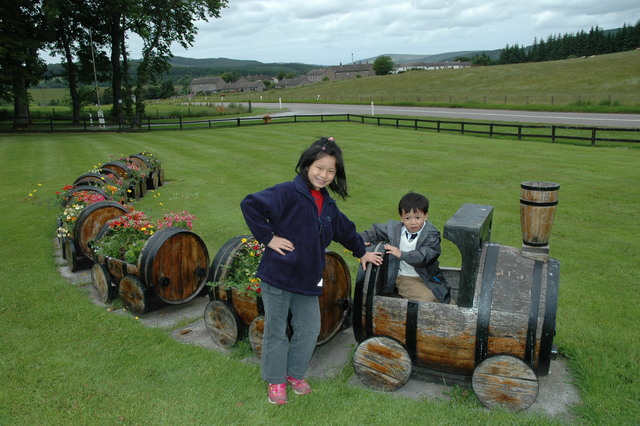 Right before the dinner, we paid a visit to the nearby the Highlander Inn, where the famous Duncan Elphick just acquired last month. Almost every one I met talked about Duncan left Craigellachie Hotel and start his own business. It is too bad that I can't stay in the Craigellachie Hotel when he's still there. But nothing really changed during the past one month, maybe later. When I visited the Highlander Inn's bar, Duncan was not there. I later found out he was in London for the interview with Michael Jackson. Michael would like to write a new book(or an article, I am not that sure) about the barman. Duncan is sure to be the most important one. Anyway, I still have a dram at the bar with a little bit talk to the famous Japanese barman, Tatsuya Minagawa. He's such a nice and kind guy. No wonder everybody likes him. He said he's not going to build a same bar as the Quaich Bar. They are going to increase the malt collection to around 200. But all are valued choice but good one. Tatsuya said when he worked in the Quaich Bar, some of the collectors bottles were never being order. He want to have something really for drink. I like that. I had a dram of Ardbeg Ugadual at 2.50, I think it's very local price. It's really a bar for everyone. Looking forward to visit the hotel next year. And the good thing I learned from the new whisky manger Martin is that he believes there is enough room in Speyside for two different style bar. He actually still goes to Highland Inn every other day for dinner. Duncan and Martin are good old friends. No need to compete each other. Martin actually told me it's all by mistake back to the possibility of changing ownership of the Craigellachie Hotel. Martin actually tried to persuade the possible new owner to keep the Quaich Bar and Duncan. But the possible new owner said he's buying the hotel, not the bar. And his new plan does not have Duncan. When it turns out that there would be no change of ownership, it is too late for the old owner, Mr. to keep Duncan and Tasuya.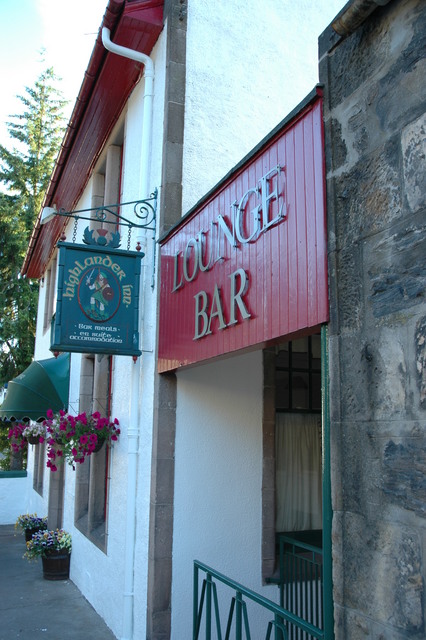 My good night dram was:
Balvenie 32yo 1964/1996 Vintage Cask(46.4%, Cask8997, 158b.)
The most expensive dram I had in my life, 95 pounds. But it's a must have as I've looking for this bottle for quite a long time. I only know there is a 1964 but never being able to know the details, not to mention the photo. It's golden brown color. Very lovely as the first impression. Warming. Orange and cereal malt. Even a little bit like refill sherry? But not so sure. Remind me old Springbank, don't know why. Salty? Why? Still very Balvenie. Powerful. Finished long. Score: 90.
As I was enjoying my Balvenie 1964.

Mr. Hans Offringa came in with his son.

Hans Just has his new book "the Road to Craighllachie" printed in English in UK this year.

They just have a trip along Islay , west coast, Orkney then finished here.

The Barman Morton(?) introduce us and we chatted a little bit about his trip.

Very nice guy. (And his 18yo son really looks much older. I can feel he's really proud of his son.)