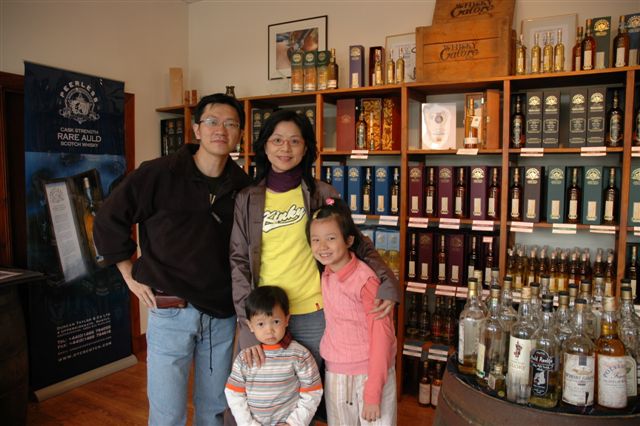 I promised Kirsty of Duncan Tayler to visit their store this morning. Huntly is far then I thought. I didn't meet Kirsty as she is sick and has to stay at home. Hope she'll get well soon. Nathalie is taking care of the store as I walk in, she just met Serge in the Vinexpo. I found out the price here is about 50% cheaper than in Taiwan, too bad I don't have room for these bottles, can only take some miniatures with me. Didn't hear any news this time. Nathalie took a picture for us and post on their website. We then had quite a good time in the Huntly Castle. The castle is quite old but you can climb up to see most of the main structure. The kids kept asking me why there is no prince and princes in the castle? Umm, very hard question for me.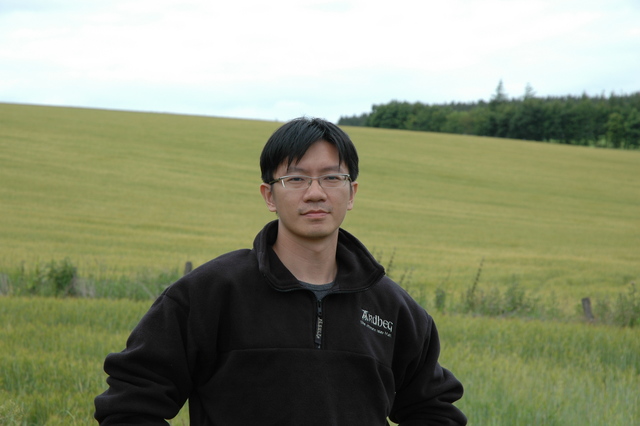 Our appointment at the Macallan is 2 o'clock in the afternoon. As I mentioned the visit to Paul and Martine on Monday. They arranged the visit to be free and left me a bottle of 12yo Fine Oak and a Macallan watch. That's really a surprise to me. It is quite a pity that Macallan is in maintenance and can't get inside. However, we still being able to have a sneak view outside the still house. The coppersmith is changing part of a still. The still is truly quite small no wonder they have to decrease the bottling as I have no idea how they can meet the huge demand in Taiwan, not too mention all over the world. One thing quite nice in Macallan is that you'll be able to see the Golden Promise barley right after you drive in. It's quite a view as I can already see some crops on it. The tour contains a vertical tasting. And the VIP tasting room is just besides the Master's tasting room. You can see Master Bob working inside while we are doing the tasting. Poor Bob, but it's quite unique experience.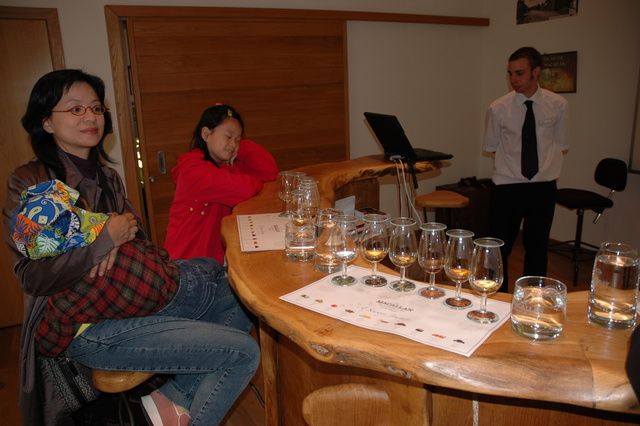 Macallan New Make Spirit
Very fruty and very oil. Very thick in body. This is the second time I taste the new make of Macallan. I think this batch is much better the one I tasted earlier in Taiwan. I am much convinced by today's sample for the statement that "Macallan only use 16% of the process to be the middle cut." This statement was mentioned in every Macallan advertisements in Taiwan.
Macallan 12yo Sherry Oak (40%, OB)
A little bit better than my last tasting. Seems from a better batch. Score: 80.
Macallan 15yo Fine Oak (43%, OB)
Still quite pleasant, a little chocolate with lot's of fruits. Score: 85.
Macallan 18yo Sherry Oak 1986 (43%, OB)
This one performs much better than my last tasting. I found I gave it quite low during the award, maybe it's because of the sample I got, I don't know. Score: 83.
Macallan 25yo Sherry Oak (43%, OB)
Quite complex and mature. We didn't have it in the awards. But this is as good as the Fine Oak 25yo. Score: 86.
Macallan 30yo Fine Oak (43%, OB)
This is the one we had in award. Taste much better then last time. But I still prefer 25yo. And I still think this one contains much more sherry casks then bourbon ones. Score: 84.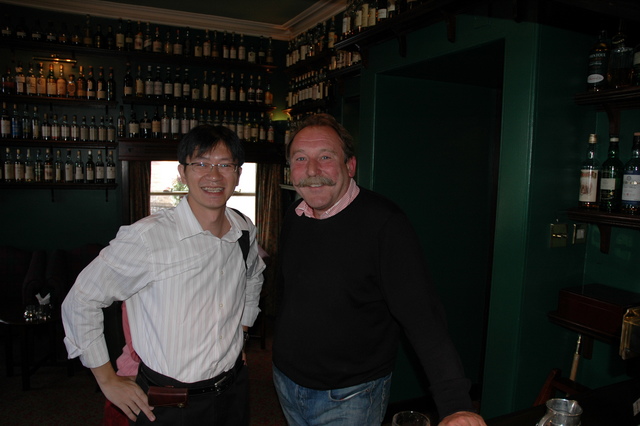 I called Charles MacLean after I check in the Craigellachie Hotel. Charlie told me he was standing in the middle of the Spey fishing. We conclude that we can have a dram before the dinner at the famous Quaich Bar. It is quite an honor to meet Charlie. He is not only a maniac , but also the whisky writer I respect the most. The new whisky manger of the hotel, Martin Markvardsen, saw Charlie coming in and treat us with two generous drams of the Whisky of the Month.(This is new for the Craigellachie Hotel this year that hotel guest can enjoy the legendary whisky at 35 pounds per dram.)
Springbank 35yo 1952/1987 (45.5%, Cadenhead, dumpy bottle)
Martin find out there were only 84 bottles released that time. Golden color. Very nice old nose. Not exactly like the other old Springbank but still quite nice. Some paper , even rice. Very flowerish, ripe flower. Charlie and I thought it comes from a refill sherry cask but later he and Martin can't really be sure about it. Some influence from the sea, Very pleasant and certainly even more enjoyable to have it with Charlie. Score: 92.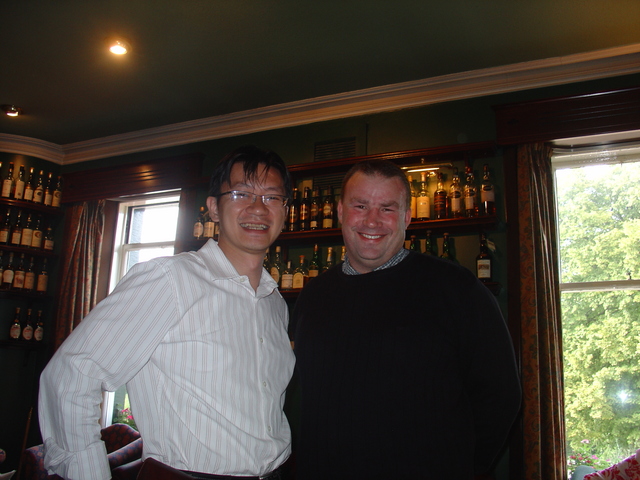 Martin just becomes the whisky manager this month. I've learned about the news from Malt's L. This is a new position after the left of the famous Duncan Elphick. Martin certainly has lot's plans in mind. He plans to bottle more hotel bottles, but in a "bastard" malts way. The most recently one should be a young Mortlach. He also plans to increase the bar collection to add in most of the old Duncan Tayler bottles. Wow, that really amazing, the Quaich Bar has now over 500 bottles and he plans to increase at least 200 more. One thing more interesting is the possibility to have the Craigellachie Whisky School. In his plan, it will be a week program and has the chance to work in difference distilleries each day. Martin just received three work-in-process cask samples from Glengoyne, which is quite a surprise to Charley and me because all three are wood finish versions. These three samples are from Madeira, Rum, and Port Finish, age unknown. I must be honest that I found myself getting hard to like wood finish as time goes by. The Port and Madeira Finish perform quite well, adding the necessary flavors in to increase the complexity. However, the Rum Finish is quite robust and almost just like pour in some Rums directly. Charley believes the best is the Port one while the worst is the Madeira one. We had some quite nice chat for half an hour. Thanks Charlie.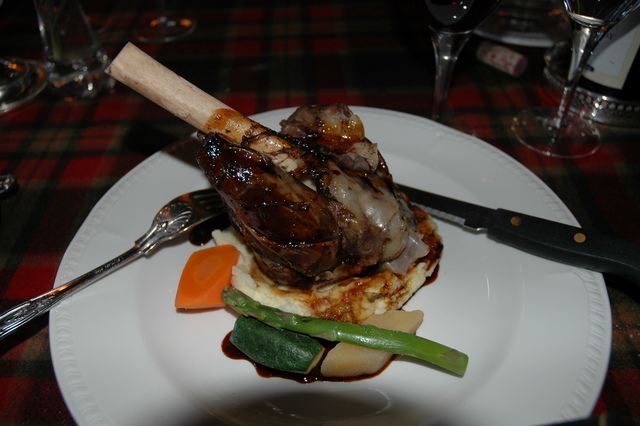 The dinner at the Craigellachie Hotel still serve in the tradition way. (Maybe?) They want you order the menu up at the bar or library while you can have some drinks, then guide you down to the base floor to sit. This must be the western way, but with kids, it certainly quite difficult for us. The kids were so happy to run and difficult to calm down. But I believe most other people enjoy it!?? Besides this small complain, I like the food very much. Very nice food and service. We've tried almost all the dishes in the menu during our stay. All very delicious.
The Craigellachie Hotel also offers a public computer, which has internet access. Although I have world internet access, I didn't release that the telphone plug is different in UK. Thus, I've been out of connection from the e-mail for several days. While I was happy to get connected again, Martin served me Luc's Glenfarclas bottle. Quite a surprise. Thanks Luc.
Glenfarclas 42yo 1959/2002 Christmas Day (46%, OB, 96b.)
Brown. Very nice nose, heavily sherried. Quite clear mint and flower. Strong body and complex. A little bit salty. The best malt I've tasted during the trip. Score: 94.
And before I went back to bed. One last dram,
Ardbeg Provenance 1974/2000 (55%, OB)
Quite lovely nose. Very Peaty. Nice sherry balance. Sweet. Some interesting pepper? Then flower. Finished long. Not as strong as I thought, but still a very nice Ardbeg bottle. Score: 92.