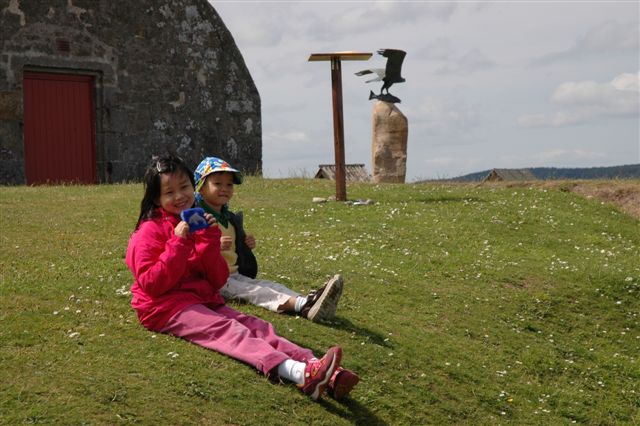 I decided to take the kids to see the dolphin. But before we drive out, we stopped by the Johnson's Cashmere. The factory offers free tour to show you the process of making cashmere product, and it is much more fun for the kids then the distillery tours. The shops also provide quality product with discount. The beautiful Elgan cathedral just locate next to the factory. Worth to stop by. We then went to the Moray Firth Wildlife Center, which is just at the Spey Bay, where the spey river reach the sea. I didn't expect this wild life center that wild. I though there were at least something easily to be seen. Lucky I brought two binoculars with me and I am still a birdwatcher after all. It is a quite nice spot for birdwatchers and according to the notes in the center, they also records dolphins almost everyday, but not yet this morning. We didn't have the chance to see the dolphin for our short stay, but the kids quite enjoyed the activity in the small center and they saw an osprey and see gulls when we are searching the dolphins. The road then lead us to Keith, where I finally saw Strathisla.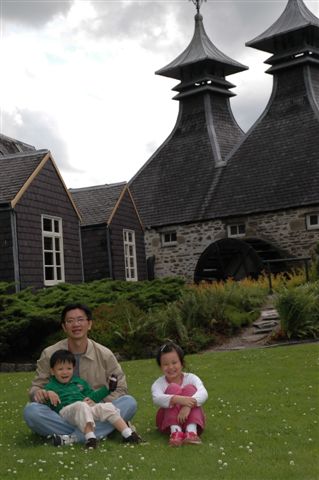 Strathisla looks just like the pictures but seems to be much smaller but more beautiful. It is not the working season but they still offers tour to go through the whole process. My personal guide, Mathew, is doing a summer job here. He explained in detail and answers most of my question. Later I found out that his mother also works in Macallan as a tour guide for quite a long time. No wonder he is very familiar with this job. Strathisla's stills are to small to believe. The mash tun is the old fashion one just like the Bruichladdich's but with a cover. The ceiling in the sill house is wooden like a farm house and the still has almost reach the roof.. The warehouse is just for demonstration purpose and contains more Chivas Brothers then single malt.. I don't know if it is for real, because I saw the Chivas 100 cask, Chivas 50yo , Chivas 38 yo ects. But as far as I know, they have all been bottled. So, what's left here is really a mystery. (Or maybe what's already bottled is a mystery? Or maybe the limited bottles are not limited?) The tour should began with a free Chivas 12yo and ends with Chivas 18yo. But I asked to change the Chivas 18yo to Strathisla 12yo. I also noticed that there were some cask strength bottles, which can only be bought at the distilleries, already opened in the tasting room. But I guess it is only for the VIPs and certainly I am not one of them.
Strathisla 12yo (40%, OB)
I finally understand that the cream paper white label was actually bottled before 2002 and the printed-to-bottle one is bottled after 2003. This one is in golden brown color. A little bit too sweet then the one in my memory, too much caramel in the mouth. Finished long and complex. But certainly not really too enjoyable for a Strathisla lover like me. Score: 74. Quite disappointed.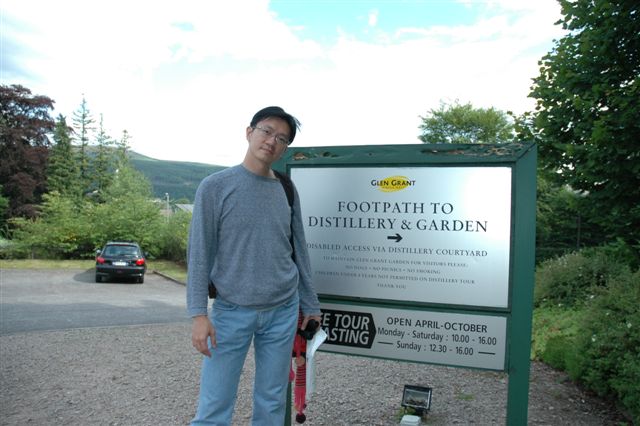 We then managed to get to Glen Grant right before the last tour. However, my little boy fall asleep but the elder one can't get into the distillery with me. Thus, I can only take my daughter to the Glen Grant garden for a walk, while my wife stay in the car with the sleeping boy. This is a nice garden but can hardly see any flowers. My daughter's impression about the GARDEN is full of flowers, thus she was quite disappointed about the walk.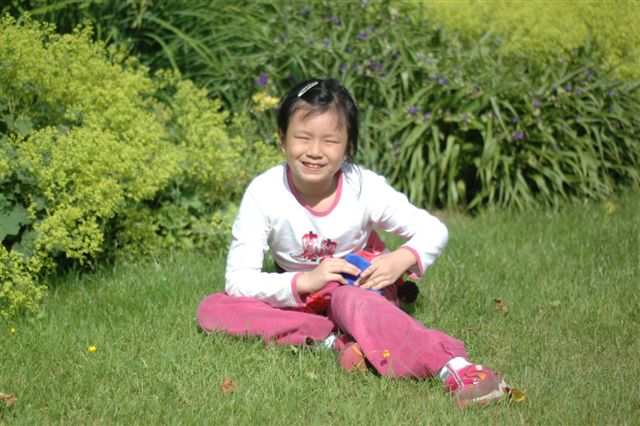 Though I can't get inside, I bought the miniature and have a small tasting section after went back to the hotel.
Glen Grant NAS (40%, OB, miniature)
Light yellow color. Vanilla. Citrus. A little bit light nut. Mild. Some kind of flower. Adding water become very fruity and flowerish. Score: 76.
Strathisla 1985 (40%, G&M, miniature)
Golden Brown. Quite mint feel at first with some sherry as well. A little bit orange at the back. Tropical fruit, lightly peated? Finished mild. A little bit too weak in body just like all G&M bottles. Score: 81.
Glen Deveron 10yo (40%, OB, miniature)
Brown. Very smoky, very peaty. Tropical fruit. Peat seems over powered and can hardly feel any other aromas. Too nutty as well. Not balanced at all. Score: 59.

Not a happy ending but I am too tired to have another drinks.