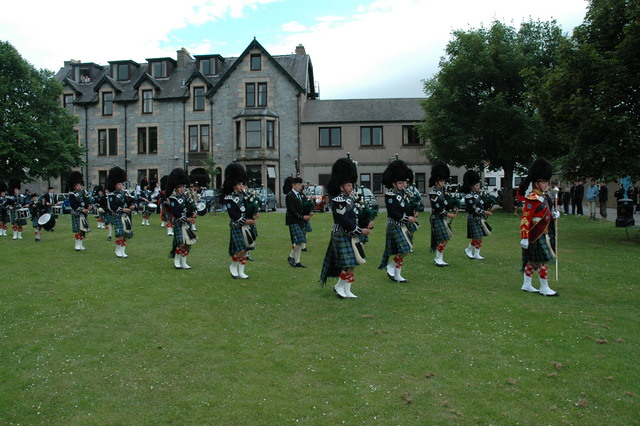 Don't get it wrong, I didn't go for the distillery tour all day. We went to Tomintoul for the annual Highland Game. It is actually not too far from Craigellachie to Tomintoul. However, what we didn't realize is that the Highland Game start from one o'clock in the afternoon. We arrived Tomintoul at 10:00. It was very quite and we don't see any musle men on the streets. After consult with an old man. We realize that the "pipe band" will march along the main streets and have the performance on the town center square. It is very exciting when we see the band march in. It is a pity that I knows very little about the tradition. The only thing I know is that Tomintoul is probably the oldest town to hold the Highland Game in Scotland. And that is also the reason they'll have a large pipe band to start every year.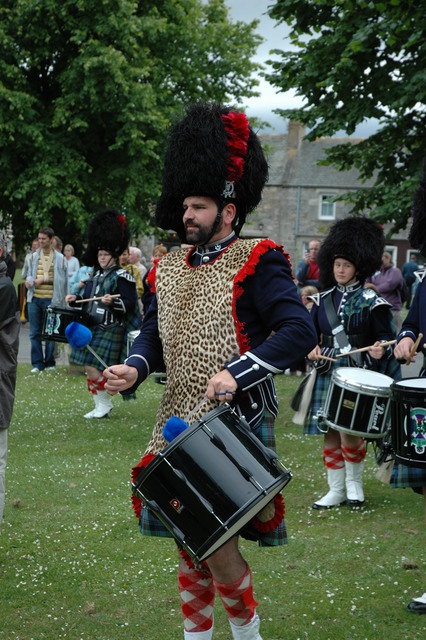 We had a quite lunch at the famous local restaurant "the clock tower", very delicious ground beef burger. Then, the kids go with my wife to see the Game, while I stopped at the Whisky Castle for some quick shopping. The shop owner Mike and Cathy were also in the Feis Ile 2004. He brought back the Ardbeg Feis Ile bottle. I was very happy to see that one as I left earlier last year and can't get it. We chat a little bit and he was very kind to have everyone in the shop to try this nice Port Ellen.
Port Ellen 21yo 1982/2004 (40%, McGibbon Provenance Automn, Cask#DMG ref 476, Sherry Cask)
Quite standard Port Ellen while a little bit thin. Only slightly sherried. Medium peat level. Fruity. Weak in finish, but still very nice. Score: 85.
The kids enjoyed the .Game fair quite a lot. It is a pity that we can't stay all day. I reserve the Aberlour tour in the afternoon.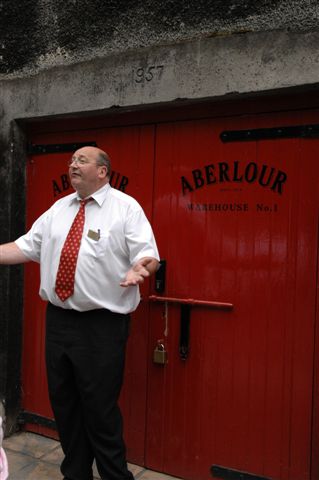 I went to the tour by myself while my kids are playing at the nearby playground. My tour guide Dennies is very experienced. He is probably the best tour guy I met during the tour this time. He knows very well about the distillery, he loves whisky, and he is fun. I didn't know Aberlour is the best selling single malt in France and Dennies asid it is because of Aberlour to attract Penold Ricard step into the whisky industry. May be it's true. May be.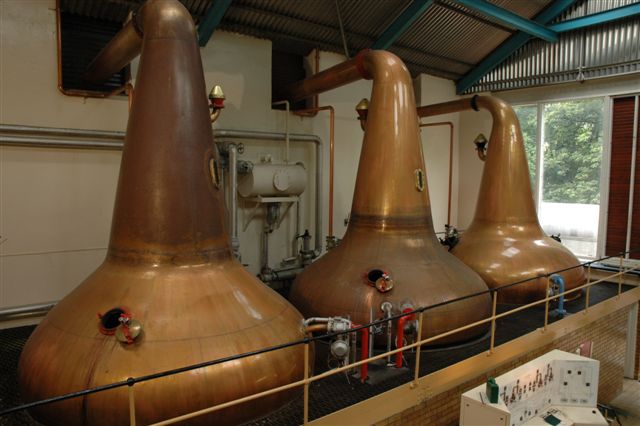 The tour start with a film and a brief introduction. Then we go through the distillery and finally stop at the warehouse N.1 tasting room, where we have the vertical tasting:
Aberlour New Make (63.5%)
More nutty then other new make I had before. Robust! Very big.
Aberlour 12yo 1993/2005 (59.1%, OB, Cask#1643, Warehouse No. 1 for distillery visitor only)
This is a first fill bourbon barrel. Very fruity. Vanilla, mint, sweet. Mild but finished lovely. Very nice and enjoyable one. Score: 89.
Aberlour13yo 1992/2005 (60.4%, OB, Cask#918, . Warehouse No. 1 for distillery visitor only)
Dark brown, First fill sherry butt. Clear, quite sherry. Lot's fruit, , very chocolate in palate. Woodiness finish. Score: 88.
Aberlour 10yo double matured (40%, OB)
I learned that double matured is actually marrying not finish here. Caramel sweet. Not good. Adding water get some citrus. Weak. Score :75.
Aberlour 16yo double matured (43%, OB)
A little bit better, not too surprised. Score: 80.
Aberlour a'bunadh batch #14.( 59.5%, OB)
Golden brown. Very pleasant. Fresh and dried fruit. Very spicy. Mellow. And nice flowerish. It is said that each batch comes from 50 casks. Score: 85.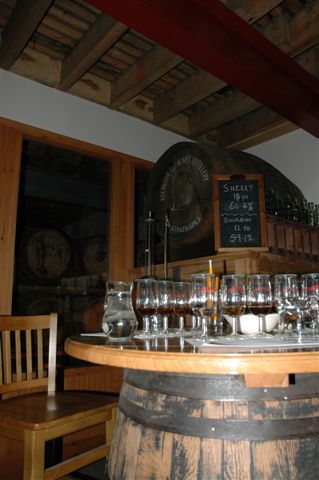 I then bottled my only bottle from the sherry butt 918. I actually like the bourbon barrel better but at the same price, I'll take the sherry one.
Just before the dinner, I found Hans to have him signed his new book for me. And I also got the honor to meet the hotel owner, Mr. Soren Gabriel, and had a dram of:
Glen Moray 26yo 1978/2004 (57.6%, OB, Cask#7765, 180b. Exclusive for Craigellachie Hotel.)
This is a bourbon cask, very fruity. Vanilla, citrus. Adding water taste better. Very strong and robust one. Unlike it's age. Very different from the normbal OB. Score: 90.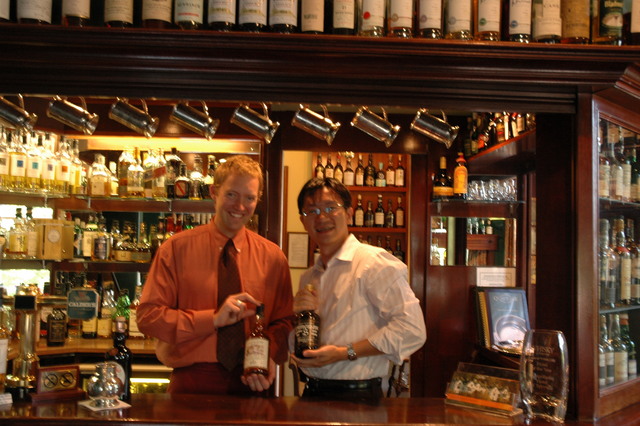 After the dinner, Martin called to my room and asked if I'd like to go to the Glenfiddich beach party. That's new to me as we are far away from the sea. It turns our that the beach refers to the Glenfiddich bank. The set up a big fire to celebrate the finish of the "Artists in Residency." It is supposed to be only for the distillery workers and their friends. I was very lucky to sneak in with Martin and to meet with Ian Millar and Jens Tholstrup. Ian told me he'll visited Taiwan next month and would like to meet with our club members that time. (And lucky that I actually tasted Glenfiddich 40yo and 1937 later in Taiwen.) It's nice, quite and beautiful. Before it's going to rain. Martin and I stopped by the Fiddichside Inn to chat with the old couples.(Dorothy? and her husband) Dorothy took over the inn from her parents, she only left the place for one month during her life. It was back to the time that during the war. She joined the army for a short time as a nurse and met her husband. They two soon came back and takes over the inn since then. This is an old fashioned one and according to Martin, reminds you the old times. We had a dram of
Linkwood 12yo (43%, F&F)
Still nice and easy in this warm bar. Score: 84. It would not be the same if Dorothy was not in charge, said Martin. I totally agree.