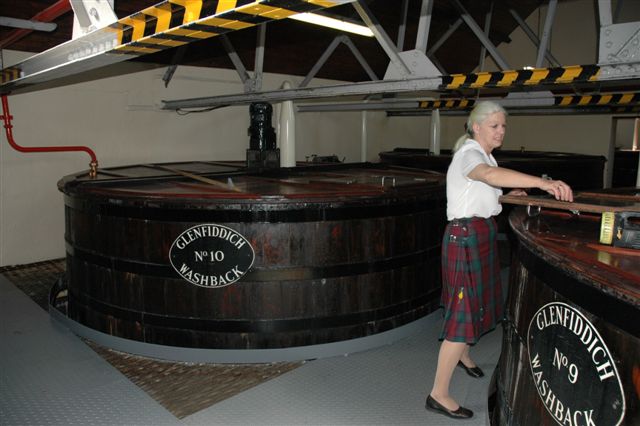 Glenfiddich sent a driver to pick me up at 9:30 from the hotel. This nice lady (sorry I forget to write down her name) often takes different people to the distillery. She particular like our fellow Mania Martin Noute. She also mentioned that the famous Michael Jackson is a nice fellow, very kind and interesting. We had some quite pleasant talk along the way. She is also an Islay fan, and particular interested at my Bruichladdich Academy experience. My tour start at the VIP rooms , which has all of the core range product of William Grant and Sons. My guide Kyla(?, a strange name if my memory was right, an old lady.) Let me sit down and relax to enjoy some tea. We had some basic talk and then enjoyed my first dram of
Glenfiddich 12yo Caoran Reserve (40%, OB)
This peated version was never shown in Taiwan. Kevin told me last night that they'll soon stop producing it as it's not performing good enough. This malt is actually peatier then I thought. Golden in color, quite standard citrus fruit with balanced peat influence. It also get some bitter peat feel in the palate. Adding water get more fruit. Still quite Glenfiddich Score: 83.
We then head for the distillery tour. Glenfiddich is said to be the most visiting distillery in Scotland. The tour is free, 40 guides are ready to set out anytime. The layout is very organized and covered all the process. I quite enjoyed the tour and certainly good for any level visitors. The distillery is large and clean. Even the mash tun and wash back installed a glass window with wipers to let you see through easily. And yes they still use direct firing for Glenfiddich, while use the extra heat from Glenfiddich to provide Balvenie. But this is the part I don't quite understand, as it seems quite a long distance to transfer the steam from Glenfiddich to Balvenie. Does not really make sense. It is also important to know that they use two different shape of wash stills then they mix the low wine receiving from the two stills to go through the same shape spirit stills. I think I need to do more homework for this part as it's new to me. Before we head to the Balvenie. I had a dram of
Glenfiddich 15yo Solera Reserve (40%, OB)
A normal wee dram should be 12yo but as I am the VIP, they take the 15yo out to end the tour. Still quite enjoyable and easy drinking one. Score: 83.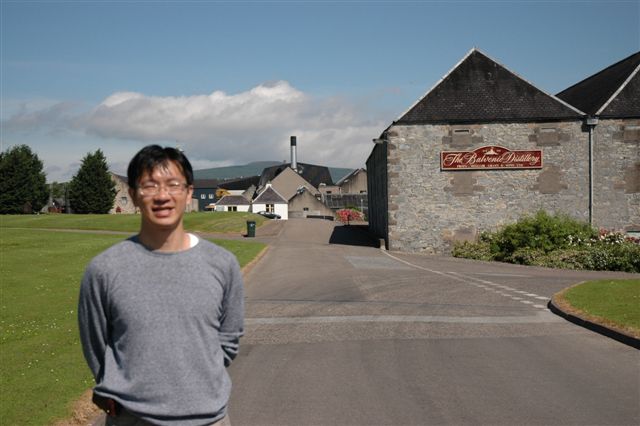 It is interesting to know that no matter you are an employee or a visitor, you have to wear a safety vest to walk between the two distilleries. It is both for safety and for security, as there are so many visitors at the site any time. There are always someone trying to sneak into Balvenie, according to my guide. Balvenie is not doing floor malting during the summer. It is mainly because of the hot weather, it's very difficult to control the floor malting process and the fungus becomes very troublesome during this season . After a shot visit to the Balvenie still house, we head beck to the store, where I manage to get my Vintage Cask 1971. It is a new release and selected by the old bond officer to thanks him for the contribution of the article in the distillery book "Whisky Companion". As 1971 is my birth year, this is my target even before I leave home. Then we head back to the VIP room to have my final dram here.
Balvenie 1991 Portwood (40%, OB)
This bottle replace the 1989 Portwood. Mild, quite clear port influence, sweet! But it has more clear fruity influence. Adding water get more orange feel. Absolutely better than 1989 Portwood. Score: 83.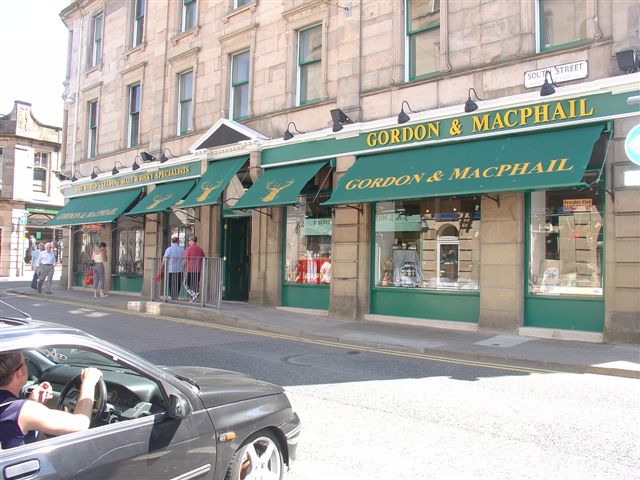 After I went back to Elgin, I finally has the chance to visit the famous Gordon & MacPhail. Although I know G&M start the business as a grocery store, I was still very surprise to see a comparing large portion of food sector in the store. The whisky shop was hidden at the back and contains far less bottles than I thought. However, I still manage to get 2 G&M Ardbeg miniatures to bring back. Since I still got some time after the shopping, I drive to Glen Moray. Glen Moray is actually locate in the city. Nothing too much to mention except the shop provide quite some unique bottles. The guide explained quite clear but the visitors here seems quite advanced but has nothing too much to ask. It's quite like show me the place and that's all I need. It's also interesting that my questions were answered by other visitors in the group, very unusual. I personally found it quite strange that the warehouse we visited was extreamly hot, unlike any other dunnage warehouse and it's the oldest one in the distillery. Probably because they change the roof to be the normally plastic one.(I don't know the name in English.) Not a good idea , Some people told me it's because of the flood back in the 90s in Elgin, when Glen Moray lost most of their casks. I certainly don't know if it's true or not. One thing further, the guide told me that the famous "Serendipity" was actually a real mistake. And it was really the Ardbeg 17yo which blend in, it's not a marketing trick One thing I am not aware is that they claim to be a peat free malt as they only use steam in kiln. My free dram for the tour is
Glen Moray 16yo (40%, OB)
Quite robust as a 16yo malt. Not too pleasant and certainly too easy. Score: 75.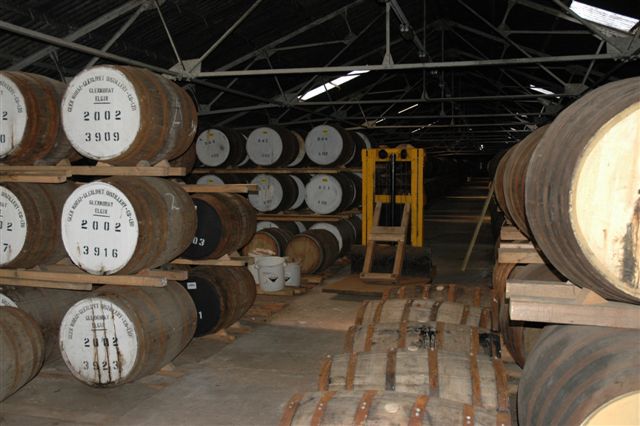 We had the dinner at the hotel restaurants, very normal and no wonder Kevin want to take us out for dinner last night. Although Mansefield Hotel has quite the first class design, the food is not good enough and certainly they are lack of waitress. I certainly they can improve this part to be the really first class hotel. My good night dram was:
Glengoyne 1969 Vintage Reserve (47%, OB, 2,742b.)
Golden brown color. Smokey. A little pepper? Citrus fruit. Vanilla. Quite strong. Dry in palate and finish. But finished long. Extremely pleasant one. Very nice and enjoyable. Adding water get more citrus . Score: 91.
BTW, Glenfiddich should only sponsored me for the accommodation for these two nights, but the hotel send all the bill to Glenfiddich even before I checked out. The bill contains a dinner with a bottle of wine and the Glengoyne 1969. I hope they won't be too angry when they received the bill.