Our plan today was to arrived Edinburgh before 2:00 to meet the other Taiwanese to go clay pigeon shooting.. I forget if I mentioned earlier that my trip is partially sponsored by Caldbecks Taiwan, a join venture of William Grant & Son and Bacard. I should meet other people in the industry to "enjoy" three days of luxury tour. However, I got the call from Jamie, Glenfiddich brand manger of Taiwan, saying that they didn't leave Taiwan as most of the guests are scared of the London bombing on July 7th and she feel sorry about it but she has arrange the accommodation and the distillery tour for me. As I don't have the clay shooting in the afternoon, I changed my plan immediately and head north.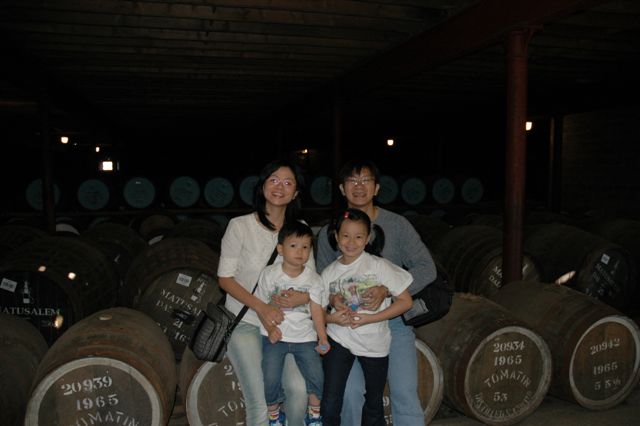 My first stop today was Tomatin. Tomatin's tour doesn't get too much positive point on the reviews. However, I personally think it still worth a short stop because of the friendly tour guild and visitor center workers. The tour is free and starts in a well organized video film, the most interesting part in the video is it kept saying Tomatin sold quite well in Gorden &Maphfeil and in Royal Miles Whisky, as if they are afraid visitors take Tomatin as an un-famous single malt. I was quite surprised to learn that Tomatin is the biggest Single Malt distillery in terms of production volumes. Our tour does not go through the working process but we can at least see the stills in a distance, though not being able to take pictures. After a short but detailed explanation, we move to a traditional dunnage warehouse, specially prepared for the visitors, where you can sit on several 1965 Tomatin casks for pictures and then smell it. Oh! It smell so good. Our guide said they intend to let it matured for a couple of years more and see if they can stand until 50 years old. I was also very surprised to learn that Tomatin mainly use Sherry Cask to mature. I quite doubt it as it has such high production volume and it is not possible to get all those sherry casks. Another surprised was the fact the Tomatin said it was lightly peated but I can hardly feel it. The tour guide said they also have some heavily peated ones but in a very small portion. Then the kids are happy as they bought the highland cow toys while we enjoy our wee dram of
Tomatin 12yo (40%, OB)
Brown in color. Quite sweet with a hint of smokeness. Sherry influence a lot. Some fruitiness, very easy yet strong body. Balanced. Quite change my view about it! Score: 83.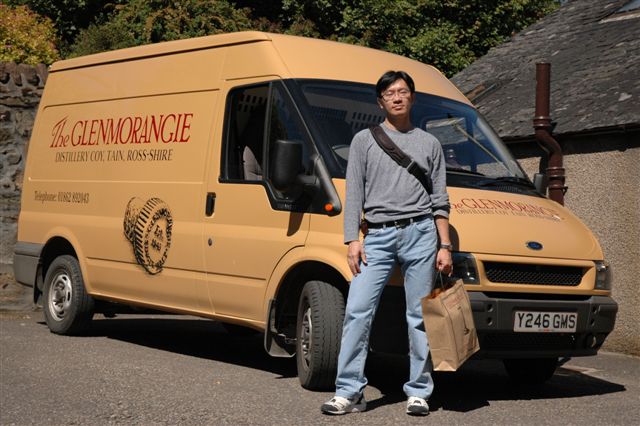 We managed to arrived Glenmorangie by 11:30, just about the time to join the 11:45 tour. The tour cost 2.50 pound but redeemable at the shop. The tour start in the Glenmorangie Museum by a film, then our beautiful guide showed of quite nerves as she is new to the distillery. However, she still tried to answer our questions but when also source out to stillman when she can't answer. It is a pity that she can't talk more about their wood finish strategy but as a newbie, she performs quite well. I also think Glenmorangie is a very beautiful place for photography, I wish I had more time here. I had my dram of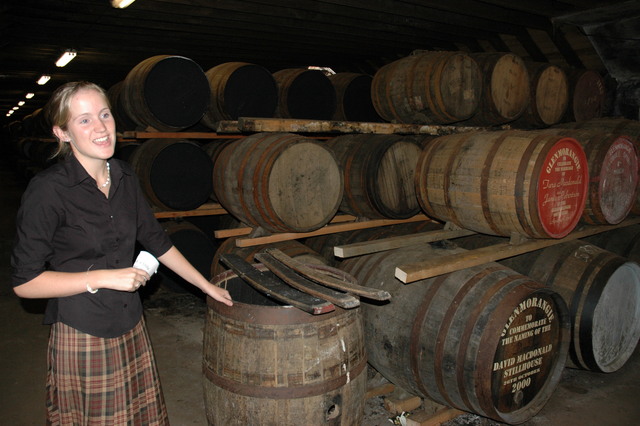 Glenmorangie 15yo (43%, OB)
Golden. Very Fruity. Citrus. Light, yet elegant. Easy. A little flowerish. Quite warm in the mouth. Finished extremely long. Adding water get some candy? I think it taste even better then 18yo. Elegant yet powerful. Score: 84.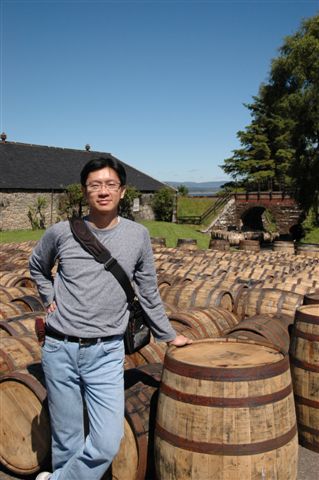 We then head to Tain for lunch. Tain is extremely quite, not as I thought, only a few teenagers walking on the streets. Our lunch was at the Royal Hotel, it is probably the best lunch we had in Scotland, highly recommended. Our next stop is Dalmore. Dalmore is locate on the Black Isle and can see lots of Oil Drills just beside the distillery. Dalmore is much more beautiful than I thought, probably because of the good weather. The tour is free and our tour guide lead us through every step and finally to see the unique pot still. I think the shape makes Dalmore so unique . I don't quite like Dalmore but I do think Dalmore stand quite different then other distilleries, of course not because of the Oil Drill. I was quite surprise to learn that Dalmore was not peated at all. I mean, I can understand the sea influence but I think in old Dalmore there were some peat influence, but I am not that sure, probably because of the old Dalmore. The tour guide said they only uses gas in kilning, right now, no peat at all. Another surprise is the water coming from the stream just beside the distillery, it looks full of peat as it not that clear. I wonder if it contains some peat inside, this is also the question the guide can't answer.. As it's a private tour of my family, we had the chance to taste the new make, that's quite a plus. The new make is very fruity and sweet, can't taste any peat at all for sure. And speak honestly, it quite nice and gentle. After go back to the shop, the children was given some apple juice while my wife and I enjoyed our dram of: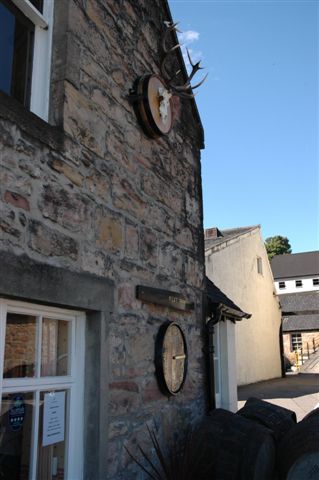 Dalmore 12yo (43%, OB)
It contains 30% sherry cask and 70% bourbon cask. Nothing too special. Very similar like what I remembered. Score: 78.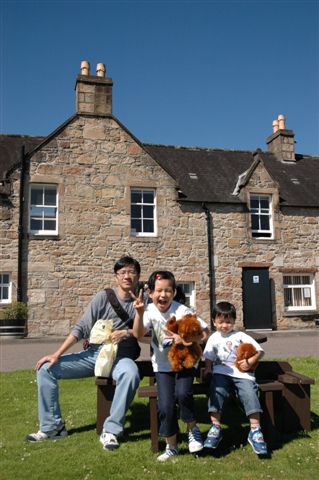 My wife actually believe Dalmore offers the best tour for our family, But I think it is partially because of the beautiful sunny day, I THINK Something to notice, there were two special 12yo edition, one is Black Pearl and another is Black Isle. Both editions contains more sherry casks and has different label. The Black Pearl is all sold out and seems has no plan to bottle in the near future. I only got the Black Isle miniature back but not yet tasted.
Then we head to Elgin. Our hotel tonight is the Mansefield Hotel. Though I didn't meet other Taiwanese, I met Mr. Kevin Fong, the Regional Director of Asian Director of William Grant & Son. Kevin based in Hong Kong but is a true Taiwanese. We had some delicious Angus beef in the Sunny Hill Hotel, not too far away. In fact, it full of local people and seems to be the best restaurant in Elgin. It is the first time we met each other, we had some basic chat and head back to the hotel for some drinks. My first drink tonight was an
Benrinnes 15yo (43%, F & F)
Clear yellow, quite smoky. Fruity , citrus! Malty. Quite simple but nice. Score: 80.
Along the drink, we had some serious discussion about the whisky industry. Kevin is quite a clever man and is pretty open-minded. He first comes touch the alcohol industry with beer than works for Chivas and Macallan in Taiwan.(not directly). I heard about him before but I didn't know he works for William Grant & Son right now. He probably the one to create the boom of the whisky in the Taiwanese market. I was very surprise to know that he, as a marketing guy, he is not that appreciate the single malt, I personally found that he may like beer more than single malt, but that does not effect his decision. He likes to talk was people like me to discover what we thought. However, it is also sad to found that he has already know all the answers I'd say. For him, it is more like to confirm and to remind him what he should do. He admit that as a marketing guy, also the directors in the board. He only look at the numbers, He decides the strategies to sell. And I believe the corporate need people like him, and he sure did a great job. BUT, that's not what I want. I would like to see a man with passion of single malt to run the business. But maybe, it will finally fall into the hand of multi-national groups. I truly appreciate that he takes time to discuss with me and thanks me for reminds him how good is their whisky. He said, it is important for me, as a whisky lover to remind him about it, otherwise, he just forget how good is the product they have. It is also a little bit sad that I know he is probably the only one in the industry to be brave enough to admit the truth. Anyway, it's quite a un-normal discussion.
I asked him if I'll have the chance to taste Kininvie? He is not so sure as even for himself has only tried once before. But he mentioned that the new vatted malt "Monkey Shoulder", which just hit the London market two weeks ago, has the major portion comes from Kininvie. (People said it's a vatted malt and comes from the only three malt distilleries they have.) I might got some feeling about it by tasting that one. Unfortunately, I didn't found any during my visit this time. Then Kevin was very kind to buy me a dram of
Ladyburn 1973 (50.4%, OB, Cask#3200)
According to MJ 5th edition, this one was released in year 2000 but not being shown on the label. It's light yellow. Quite smoky at the first impression. Then pure maltiness. Actually very low land style for me. A little bit simple , quite woody. It cost 35 pounds per dram, quite a collectors item. Score: 83.
As I taste the Ladyburn, the hotel owner came to chat with us as he was so bored to treat his old friend, Mr. Buxer, the one sell the canned soup and jam. Mr. Buxer brings some friends for dinner and even came out to chat with us for a while. The hotel owner(sorry don't have the name), found out that I am tasting the Ladyburn and start the chat, he later found out Kevin is a mechanic watch collector as him, then you know, I have no word to cut though. But lucky I was able to taste free for this:
Maphail's Malt Whisky 1995 100 centenary (40%, G&M, bottled in 10, 10, 1995, blue ceramic)
Sweet, easy, just a easy vatted malt comes from 100 distilleries. Score: 75.
Our pleasant time get even better when Kevin met Paul Ross, Martin Reimann and Hiro Miyamori. Paul and Martin are with Edrington Group, Paul is the Director of Sales and Marketing for most part of the world, and Martin is the Regional Managing Director for Asia Pacific. They both are now taking care of the Suntory people lead by Hiro, who is the Import Executive GM of Suntory. Four of them are old good friends, Kevin used to be Maximm's Great China manager. (Maxxium is the sole agent for Edrington Group in China, Taiwan, Hong Kong.) I was very surprise to learn that William Grant and Son now owns 30% share of Edrington group, while Suntory only got 20%. And the most interesting part is the Suntory group taking care by Paul and Martin tonight will be hand over to Kevin after tomorrow's lunch, and later on, the Suntory people will keep on their trip by visiting Bowmore I must say it is truly a "small industry", maybe a small world. In order to be a good host, Paul and Martin brings out 3 bottles of Macallan 1946. I must thank to the Suntory group that they are too tired to appreciate this old whisky. They only drank half bottle and I have my wee dram of
Macallan 1946 52yo (40%, OB, bottle number 2516)
Very smoky is the first impression, you can feel it is lightly peated. Paul told me that it comes from the time right after the WW II, when they have no gas to kiln. Thus back to that time Macallan is actually heavily peated. More over, you can see the color is only light yellow but remember, back to that time, they haven't use bourbon cask, the reason for the light colored sherry cask bottling is because Spain was in Civil War during the 1930s followed by WW II immediately. Thus, the distilleries simple do not have any new sherry butt to use. Any bottles comes from those years has similar situation. This is also the reason why most people can's accept the Thirtis and Forties in the Macallan travel series. Because they have tried to add peat in, and as a result, not too pleasant I must say. Very interesting story. As an 52 yo malt, this one is a little bit over the best year but still quite pleasant. Smoky first, some creaming woodiness follows, then the cereal maltiness with some hint of apple fruit. But you can still feel some standard Macallan house style at the back. Score: 90.
What a Day!