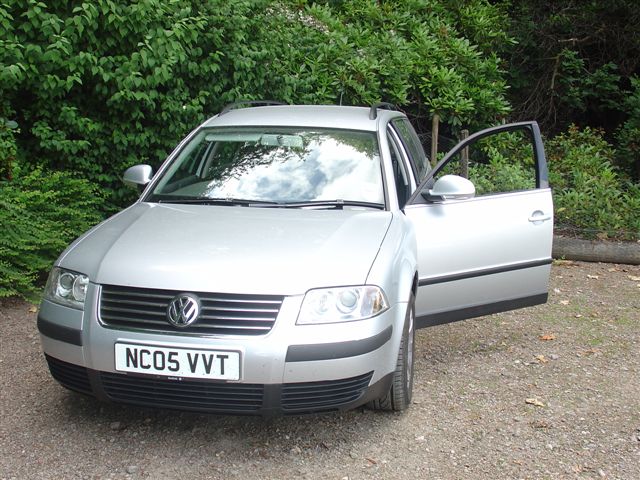 Not too surprise that we wake up at 4:30, and has to wait until 7:30 for breakfast. Lucky that we had some cereal for the children. We start to rent a car today at Thrifty. It is a VW Passat Estate. Thrifty offers a very good price over the internet and we actually get an up-grade as we reserved a smaller Renalt Laguna Estate. And it's a very new car, has only runs for 1,500 milage. Driving on left is not really a problem to me, as I have the same experience in Australia. However, it is very important to have a partner help you with the map. My wife is very good at it and she checked with the e-map even before we left home.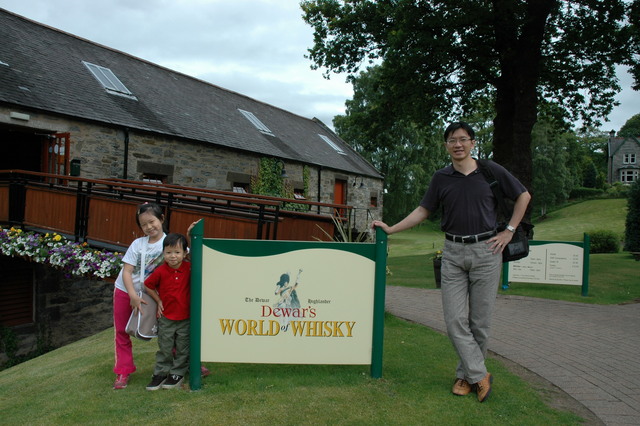 Our first stop is the Aberfeldy, with is also the home for Dewar's world of whisky. We choose this place to be the first stop not only because it's on the way up to the highland, but also most tour books, not only whisky ones, mentioned that it is quite a good place for family visit. The tour start as a self guided tour in the Dewar's World of Whisky. It is more like an educational museum, contents lot's of information about Dewar's history as well as whisky knowledge. It also contains quite a lot interactive computer games to play with. My daughter had quite some fun but the little one feel quite boring inside. I found most interesting to play on the computer to create your own blend. As a peat freak, I can't help but put lot's of Islay Malt in my blends and not too surprise to get a comments saying that this blend is too smoky to drink. There were also some other stuff like interactive quiz and some of the questions are very difficult.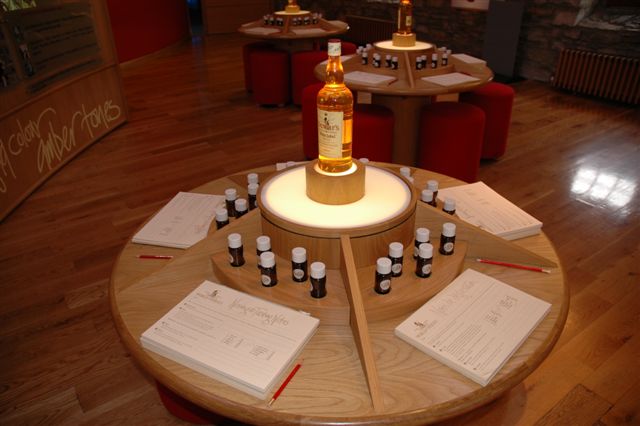 After the self-guided tour, a young man lead us into the Aberfeldy for a well organized distillery tour. The distillery tour quite covers all the details for the single malt production. And I have to say Aberfeldy is so clean that I can't believe it's a working distillery. But it is true that I can still smell the unique flavor in every steps. I was also very surprise to learn that Aberfeldy don't fill the new spirit in cask on site. The new spirit ship out in tank to fill in the casks in Stirling. I later found out it is already quite common in many distilleries. I certainly doubt if it is the practice. Then there should be no AOC requirements at all. Think about it, you don't use local barley, you don't mature locally, then is the location you produced really make that much differences? The tour ends back to the Café to have a dram at your choice of Aberfeldy 12yo or Dewers white label or Dewars 12yo. The tasting area also provide 10 different nosing samples to help you understand the aromas as well as a very well organized explanation. And I finally have my first tasting this time:
Aberfeldy 12yo (40%, OB)
Golden, Vanilla, very fruity. Citrus, hint of chocolate. Medium body. Quite easy to drink, very pleasant one. Medium finish. A little bit light in style. Score: 80.
The visitor center also offers a wide range of unusual Aberfeldy bottles as Cask Strength, 25yo, vintage 1991. Seems only available here.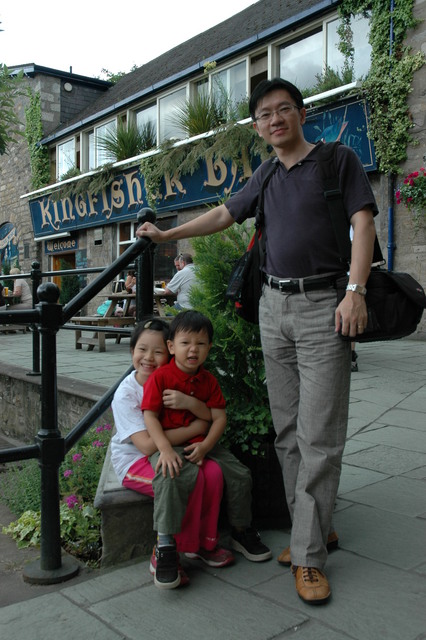 We then went directly to Pitlochry for lunch. Pitlochry is quite a tourist town for fishing as well as art. It has lots of small Inns and restaurants and has two distilleries around town. . We stopped by the local famous Fisher's House Inn and surprise to found the Kingfisher's Bar. (some people know me as Kingfisher) Another interesting thing I found in Pitlochry is a small whisky shop. I don't remember the name but the owner has quite a collection of old miniatures. He even has the whole set of the famous Signatory Wildlife series for sale. He put most of his collections in a rotating equipment and you can scroll by yourself to see the collection. I think serious miniature collectors should pay a visit sometime.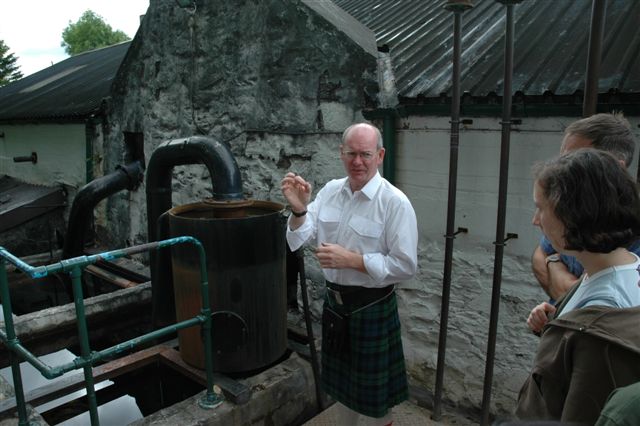 As I have only two hours left before drive to the hotel before dinner. It is a logical choice to go to Edradour instead of Blair Athol because Edradour is simply the smallest distillery in Scotland. I was quite surprise to found lot's of visitors here. But remember, it just won the best visiting distillery on Whisky Magazine. Edradour offers free tour every 20 minutes. It looks like every employees need to take turns to lead the tour. And as the smallest distillery, it may only need 3 people to produce, it use much more people to take care the visitors. Although I've seen the pictures, I was still quite surprise to see such small stills here. The most interesting thing to see is the "Worm Tub" outside to act as a condenser. It is said to have only two distilleries left still using worm tubs, the other one should be Dalwhinnie. I think the "Worm Tub" must have some influence on the whisky, it relies more on the outside temperature, I can imagine that the spirit distilled during the summer and the winter must have quite large different. And of course, we sample the Edradour 10yo at the beginning of the tour, but very strange, they serve it with the trembler, not the nosing glass.
Edradour 10yo (OB 40%)
Brown in color. Toffee, caramel, citrus, Quite robust, not balance. It seems that they'd like to attract people with an easy dram but Edradour's house style seems not that easy for beginner, I doubt what the non-whisky visitors think about it?. A little bit smokiness, adding water just gone. Score: 78.
The store sold quite some strange version of Edradour, mainly in different wood finish as well as in different alc. strength. I also found several interesting Signatory miniatures and the most interesting two are sold in set and bottled in 1995, one is Port Ellen, another one is Linkwood. Both ones hasn't been tasted by any Maniacs.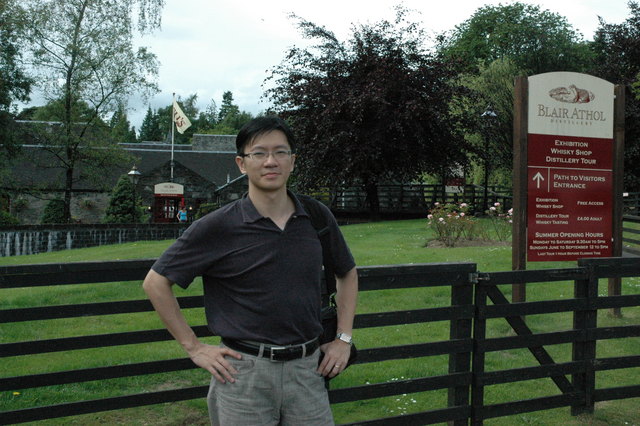 After the visit, it's already 3:30. We went to Blair Athol for a quick photo and get a standard 12yo mini and head to the hotel. Blair Athol has lot's visitors, too. Remember, it is also home to Bell's whisky. And Bell's has quite some collector fans.
Our hotel at Aviemore is the Hilton and full of children wait to attend this weekend's "A Day Go Out with Thomas". The weather get so hot that I can't help to find some beer. I can understand that there is no need to have air-conditioner but it's 32 degree outside, I just need to cool down. Micro brewing seems not so well developed in Scotland as I can see "Tennent" everywhere and people do recognize it as a local beer. The restaurant was too full that we decided to order room service. My dish was a "Lamb Casserole", a traditional Scottish dish made by diced lamb. Yummy! And my good night dram is:
Blair Athol 12yo (43%, OB, new Flaura &Fauna, miniature )
This one was put as a new OB series in MJ and put as new Flaura & Fauna in Monitor. Brown in color, a little bit orange like. Very clear citrus, quite clear sherry influence, toffee, quite sweet. A little bit nutty palate. Not the kind I like. Finished a little bitter and clear caramel. Score: 73.