Date: Apr. 8th, 2008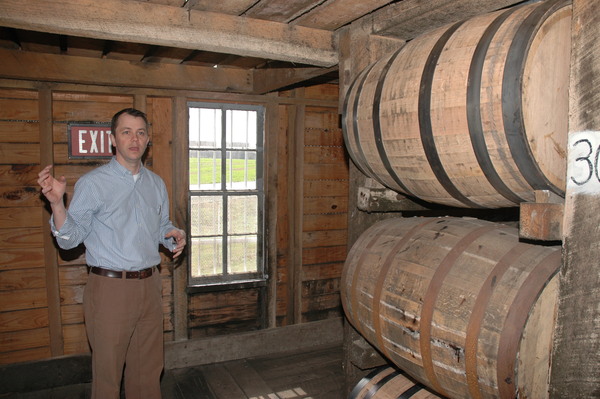 早上跑去參觀Heaven Hill, 相當有趣的經驗, 雖然最後來不及回來看酒廠有眼可惜,但是資訊已經多到不行, 暫時先押後一下, 後面再補寫這一段, 拍了相當多的照片, 有興趣的朋友可以先到相簿看看.
回旅館後還是撐不住時差, 小睡了一下, 養精蓄銳準備參加晚上的歡迎晚宴. 這裡的會議室基本上就是畫廊的展覽室, 美國不愧是調酒聖地, 他們使用Glenmoragie 10yo Origin 調出兩種頗好喝的雞尾酒, 我個人比較喜歡使用柳橙汁做主體的那杯, 使用了綠茶加上紅莓的那杯雖然頗受其他人的好評, 但是我不怎麼感興趣!
這次前來參加這趟旅程的專業人士共有八位, 分別是
Mr. Kersten Wetenkamp (德國美食雜誌 Feinschmecker 編輯)
Mr. Mamoru Tuchiya (日本威士忌雜誌主編, 威士忌研究中心總裁)
Mr. Franz Scheurer (澳洲美食美酒自由作家)
Mr. Jamie Coggans (英國美食美酒自由作家)
Mr. William Dowd (英國威士忌雜誌編輯)
Mr. Doug Frost (美國葡萄酒與烈酒專業講師與侍酒師)
Mr. Noah Rosebaum (美國烈酒自由作家)
剩下一位就是我了!
這次講的資訊還蠻多的, 只來得及寫了英文稿傳給Maniacs的人, 大家先隨便看看, 等一下就要出發去Ozarks回來再傳些照片.
I am right now at Louisville, Kentucky, USA. This is a special media trip organized by Glenmorangie to visit the Ozarks for the "perfect oak". It is also a pre-launch program for the new Glenmorangie bottling called "Astar".
Not so surprised that "Astar" is the new generation product of the "Artisan Cask", and we, among the 8 journalists all over the world, are able to taste the prototype batch of the new "Astar".
This batch is a vatting of 10 "designer casks", what Glenmorangie has been worked for the past 15 years. And for whisky lovers, we all knows these are the Ozark Oak cask.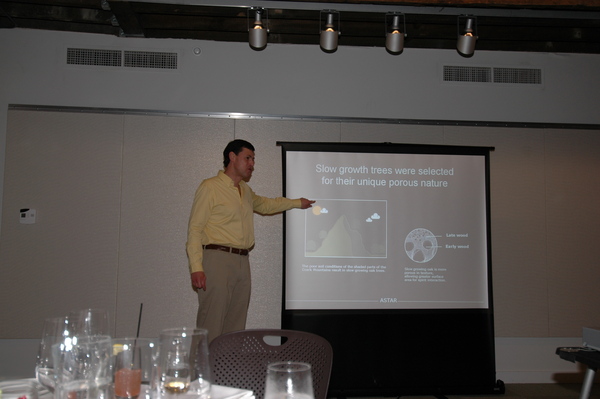 These "designer casks" have there important characters:
1.) choose from the slow growing oak in Ozarks mountain.
2.) air-dried for at least two years.
3. ) Heavily toast but lightly charred.
I won't go through the details at these moment but I think it would probably interesting to have my tasting note for the "Astar", which will be bottled at 100 proof(57.1%)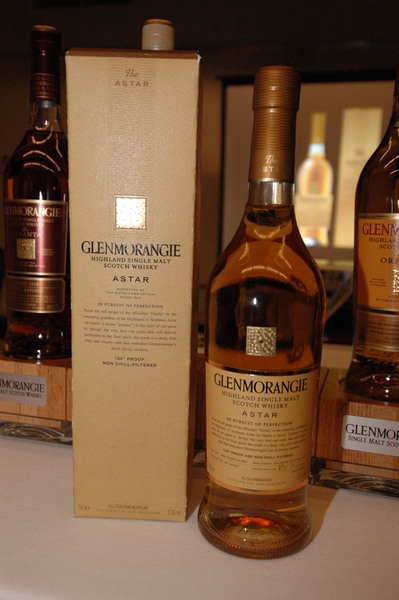 Glenmorangie NAS Astar (57.1%, OB, prototype of 10 casks vatting)

C: light yellow, quite oil with fine legs.
N: some vanilla comes out first, quite spicy as the first impression. Lot's new oak feeling. then get some lemon/citrus comes out next. With some notice from Dr. Bill Lumsden, you can actually nose the Balsamic vinegar note.
P: taste straight, it's quite spicy and attach the palate with strong and robust feeling. somewhat dry but with quite long and lingering finish.
D: dilute just a drop of water, you got more clear vanilla nose, along with clear white chocolate and cocoa nose, still quite spicy, even with some cinnamon along with just a wisp of apple.
C:
88 points
. I actually discussed with Dr. Bill Lumsden about my impression on Articsan Cask and Astar.
For me, The old Artisan Cask is kind of lighter in style with more citrus and floral note, but the new "Astar" is heavier and richer in style and certainly more layered and complicated. Bill agree with that, in fact, they actually adjust
a little bit for what they want from these " designer casks". And it is even more important that these casks are even more matured in style than the previous Artisan Cask bottling.
And for your information, Astar carries no age statement but is actually between 9~10 yos. and will be market at least 50% higher price than the current core range product.
BTW, I forget to say, Astar is not actually A Star, it's a Gaelic word, meaning "Journey", it emphasize what Glenmorgie has done to seek for these "Designer Casks"